Our Mutual Friend
Our Mutual Friend was the fourteenth and last completed novel of Charles Dickens. He began writing it in 1863. It was initially published in monthly installments that began in May of 1864 and ended in November 1865.
Our Mutual Friend – Dickens's Life At The Time
On September 12, 1863 his mother, Elizabeth dies.
In November of 1863 Dickens begins to write Our Mutual Friend.
Walter Dickens, his son, dies in India in January of 1864.
The first installment of Our Mutual Friend is published in May of 1864.
In June of 1865 Charles Dickens is involved in the Staplehurst railway accident.
The final chapters of Our Mutual Friend are published in November of 1865.
We'll Never Know
In Our Mutual Friend one of the characters is thought to be dead, but really isn't. In The Mystery of Edwin Drood, Dickens's last novel, Edwin Drood disappears. Was Drood murdered? People believe so but no body is ever found.
Was Dickens planning to use the same plot twist that he'd used in Our Mutual Friend? Perhaps, just like the character in Our Mutual Friend, Edwin Drood wasn't really dead. We'll never know. Dickens died before The Mystery of Edwin Drood was completed.
Dust Business
The dust, or garbage, business plays a large part in Our Mutual Friend. The elder John Harmon made his fortune as a dust contractor. Noddy Boffin becomes the "Golden Dustman" while Silas Wegg finds something in a mound of garbage that he thinks could take away Noddy's wealth.
In the mid-nineteenth century, garbage was collected by private contractors. The rubbish was piled into mounds and people sifted through the mounds looking for things to sell. They might find jewelry or money that was accidentally thrown away. However, most of the trash was sold as raw materials for other industries. Soap makers, road builder, paper manufacturers, and others bought items from dust contractors.
Themes in Our Mutual Friend
One of the themes of the novel is the corruption that wealth can bring. Bella Wilfer undergoes great changes during the novel as she deals with this issue. Toward the beginning of the novel, she makes a stunning declaration.
"I have made up my mind that I must have money, Pa. I feel that I can't beg it, borrow it, or steal it; and so I have resolved that I must marry it."
Later in the book, her feelings change.
"O Mr. Rokesmith, before you go, if you could but make me poor again! O! Make me poor again, Somebody, I beg and pray, or my heart will break if this goes on! Pa, dear, make me poor again and take me home! I was bad enough there, but I have been so much worse here. Don't give me money, Mr. Boffin, I won't have money. Keep it away from me, and only let me speak to good little Pa, and lay my head upon his shoulder, and tell him all my griefs. Nobody else can understand me, nobody else can comfort me, nobody else knows how unworthy I am, and yet can love me like a little child. I am better with Pa than any one–more innocent, more sorry, more glad!"
More About Our Mutual Friend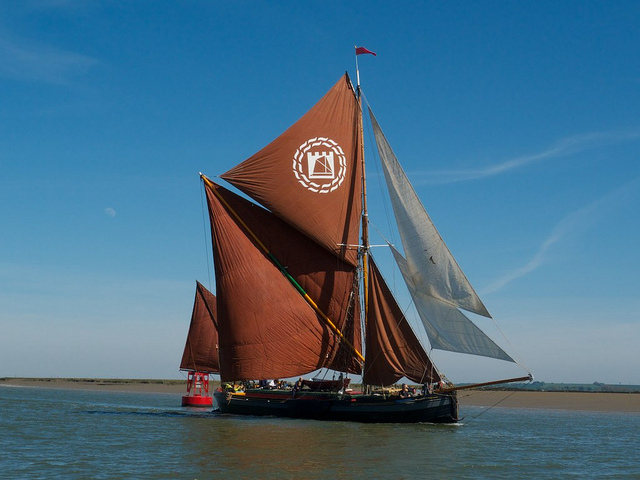 Learn about the relationship between Charles Dickens, Our Mutual Friend, the "Golden Dustman" of London and the Thames Sailing Barge Match.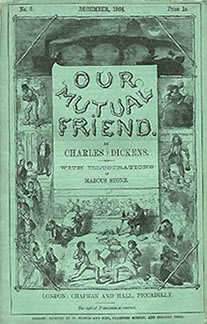 Riddle me this, what's the last novel that Dickens ever completed? If you answered Our Mutual Friend, you're correct. You also may have the answers to the crossword puzzle based on Our Mutual Friend.