Charles Dickens and Maria Beadnell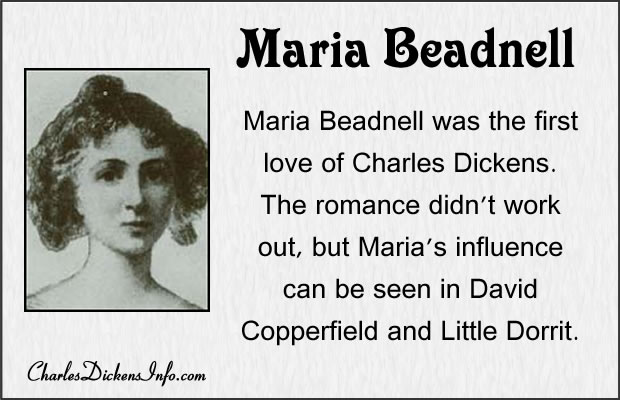 Last Updated on April 21, 2021
Maria Beadnell was the first love of Charles Dickens. They met in 1830 and he fell madly in love with her. For Charles, it was love at first sight. His mind was quickly filled with thoughts of everlasting romance and marriage.
However, Maria's parents did not approve of the relationship. Mr. Beadnell was a banker. He felt Charles was too young and lacking in prospects to be considered a serious suitor.
During these years Dickens worked as a court stenographer and shorthand reporter. His own dissatisfaction with his career and a desire to make a more favorable impression with the Beadnells led him to consider becoming an actor. He even went so far as to schedule an audition. However, he was sick on that day and missed his appointment.
Maria Beadnell and David Copperfield
The youthful Maria later inspired the character of Dora in David Copperfield.
I don't remember who was there, except Dora. I have not the least idea what we had for dinner, besides Dora. My impression is, that I dined off Dora, entirely, and sent away half-a-dozen plates untouched. I sat next to her. I talked to her. She had the most delightful little voice, the gayest little laugh, the pleasantest and most fascinating little ways, that ever led a lost youth into hopeless slavery. She was rather diminutive altogether. So much the more precious, I thought. – David Copperfield
We'll never know the nature of Maria's feelings for Charles. She sometimes treated him with indifference and sometimes seemed to encourage his affections. Later in life, she claimed that she truly cared for him.
In early 1833, when Charles became twenty one, he threw himself a coming-of-age party. The Beadnells were invited and accepted the invitation. During the evening Dickens spoke privately to Maria. He spoke of his feelings for her. She insulted him badly by referring to him as a "boy".
Their relationship ended later that year. Maria Beadnell went on to become Mrs. Henry Winter.
Maria and Little Dorrit
After a twenty-four year separation, Maria contacted Dickens. They were both married and Dickens, while lacking in prospects in his youth, had become a famous author.
Dickens was thrilled upon receiving her letter. It brought back the memories of his intense love for her and perhaps fantasies of what might have been.
In 1855 they agreed to a secret meeting without their spouses. Maria warned Dickens that she was not the same young woman that he remembered. Despite her warnings, he apparently was surprised at the changes he noticed in his first love.
Dickens's feelings inspired him to base the character of of Flora Finching in Little Dorrit on Maria.
Flora, always tall, had grown to be very broad too, and short of breath; but that was not much. Flora, whom he had left a lily, had become a peony; but that was not much. Flora, who had seemed enchanting in all she said and thought, was diffuse and silly. That was much. Flora, who had been spoiled and artless long ago, was determined to be spoiled and artless now. That was a fatal blow. – Little Dorrit
They met once more for a dinner with their spouses. After that, despite Maria's wishes for further contact, Dickens avoided her.