Characters In Bleak House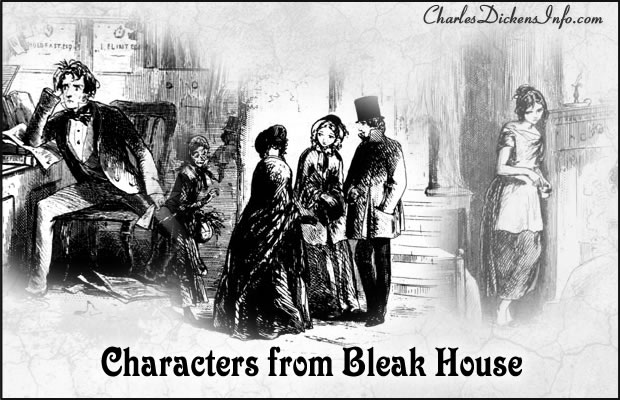 Last Updated on May 13, 2020
This list of characters from Bleak House is presented in alphabetical order by last name.
Note: Includes spoilers!
---
Bayham Badger is a doctor. Richard Carstone studies medicine with him.
Mrs. Badger is the wife of Bayham Badger. He is her third husband. Her previous husbands were Captain Swosser and Professor Dingo.
"And most remarkable men!" said Mr. Badger in a tone of confidence. "Captain Swosser of the Royal Navy, who was Mrs. Badger's first husband, was a very distinguished officer indeed. The name of Professor Dingo, my immediate predecessor, is one of European reputation."
Miss Barbary raises Esther Summerson. Later it's revealed that Miss Barbary is really the sister of Lady Dedlock and is, in fact, Esther's aunt.
Inspector Bucket investigates Lady Dedlock's secrets as well as Tulkinghorn's murder.
Richard Carstone is a possible heir in the Jarndyce vs. Jarndyce lawsuit. He and his cousin, Ada Clare, are wards of John Jarndyce. Richard and Ada fall in love and are wed. Richard can not ignore the lure of the possible wealth that would be his if Jarndyce vs. Jarndyce is settled in his favor. His obsession with the case ruins his health and leads to his death.
Scores of persons have deliriously found themselves made parties in Jarndyce and Jarndyce without knowing how or why; whole families have inherited legendary hatreds with the suit. The little plaintiff or defendant who was promised a new rocking-horse when Jarndyce and Jarndyce should be settled has grown up, possessed himself of a real horse, and trotted away into the other world. Fair wards of court have faded into mothers and grandmothers; a long procession of Chancellors has come in and gone out; the legion of bills in the suit have been transformed into mere bills of mortality; there are not three Jarndyces left upon the earth perhaps since old Tom Jarndyce in despair blew his brains out at a coffee-house in Chancery Lane; but Jarndyce and Jarndyce still drags its dreary length before the court, perennially hopeless.
Ada Clare is a possible heir in the Jarndyce vs. Jarndyce lawsuit. She and her cousin, Richard Carstone, are wards of John Jarndyce. Richard and Ada fall in love and are wed.
Lady Honoria Dedlock – Before she married Sir Leicester Dedlock, Honoria loved Captain Hawdon. She was told he'd died. She was also told their daughter, Esther, had died. Neither of these items is true.
When Lady Dedlock fears that her secrets will be made public, she runs away. She dies near the graveyard where her true love, Captain Hawdon, is buried.
Sir Leicester Dedlock is a baronet with a wife (Lady Dedlock) who is twenty years his junior. His estate is Chesney Wold.
Dame Durden – See Esther Summerson.
Miss Flite is another possible heir in Jarndyce vs. Jarndyce. She attends the court proceedings faithfully and her life revolves around the case. Krook is her landlord.
William Guppy – A humorous character who is employed as a clerk by Kenge and Carboy. He falls in love with Esther Summerson and is dismayed when his advances are rejected.
Captain Hawdon – In his youth, Captain Hawdon and Lady Dedlock were lovers. He is the father of Esther Summerson.
Hortense – Mademoiselle Hortense is Lady Dedlock's maid. Later Hortense murders Tulkinghorn.
John Jarndyce – The guardian of Esther Summerson, Ada Clare and Richard Carstone. John Jarndyce warns Richard about the dangers of pursuing Jarndyce vs. Jarndyce.
Caddy Jellyby is a friend of Esther. Caddy works as her mother's secretary.
Krook – The landlord of Miss Flite. He has the dubious distinction of dying by spontaneous combustion.
Nemo is the alias of Captain Hawdon. It is the Latin word for nobody.
Mrs. Rouncewell is the housekeeper of Chesney Wold.
George Rouncewell is the son of Mrs. Rouncewell. George joined the army. While there he served under Captain Hawdon. After he left the military he ran a shooting gallery.
Esther Summerson – The character of Esther narrates long portions of Bleak House. She is the only female character in a Dickens novel to do so.
Esther's parentage is a mystery for much of the novel. She was raised by Miss Barbary who is later revealed to be her aunt.
John Jarndyce becomes Esther's guardian. He arranges for Esther to act as a companion to Ada Clare and the family's housekeeper.
In her role as a housekeeper, Esther takes on the nickname, Dame Durden.
During the course of the novel, Esther discovers her parents are Lady Dedlock and Captain Hawdon. Eventually, Esther marries a doctor, Allen Woodcourt.
She raised me, sat in her chair, and standing me before her, said slowly in a cold, low voice–I see her knitted brow and pointed finger–"Your mother, Esther, is your disgrace, and you were hers."
Tulkinghorn is the lawyer of Sir Leicester Dedlock. He discovers Lady Deadlock's secrets and considers exposing her. Later he is murdered by Lady Deadlock's maid, Hortense.
Mr. Tulkinghorn, sitting in the twilight by the open window, enjoys his wine. As if it whispered to him of its fifty years of silence and seclusion, it shuts him up the closer. More impenetrable than ever, he sits, and drinks, and mellows as it were in secrecy, pondering at that twilight hour on all the mysteries he knows.
Allen Woodcourt is a doctor. He loves Esther Summerson and marries her at the end of the novel.
More About Bleak House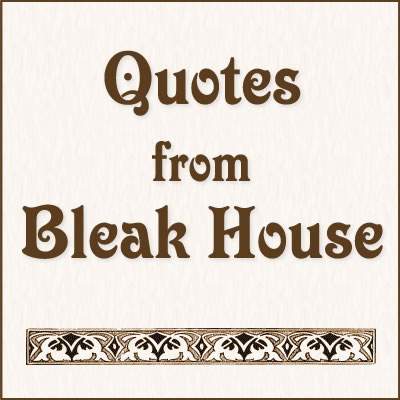 Collection of Quotations from Bleak House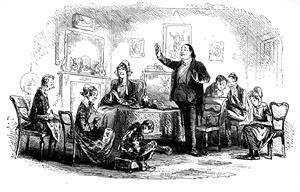 Bleak House Picture Scramble - Press the shuffle button and watch the picture become scrambled. See if you can put it back together. Click a piece next to the blank space and watch it move into the blank space.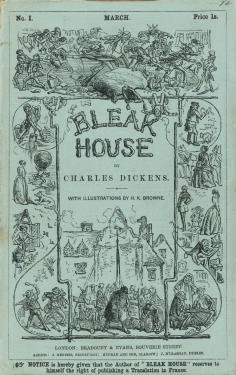 Bleak House dramatizes the flaws in the British Court of Chancery.  The novel also has the odd distinction of being perhaps the only work of classic literature featuring a character who dies by spontaneous combustion.