The Marriage of Charles Dickens
A man orders a bracelet for his mistress. It's mistakenly sent to his home where his wife discovers it. Sounds like a romance novel doesn't it? However, it really happened to Charles Dickens and his wife Catherine.
Catherine Hogarth, the eldest daughter of George and Georgina Hogarth, was born in Scotland. In 1834 she and her family moved to England where her father had taken a job as a music critic for the Morning Chronicle.
Charles Dickens, young and unattached, was also employed by the Morning Chronicle. His first romantic relationship, with Maria Beadnell, had ended badly. However he was quite recovered and was quickly taken with Catherine.
They met in 1834, became engaged in 1835 and were married in April of 1836. In January of 1837 the first of their ten children was born.
The Happy Years
The early years of their marriage were apparently quite happy. Dickens was in love with his young wife and she was very proud of her famous husband. In 1841 the couple traveled to Scotland. In 1842 they traveled to America together.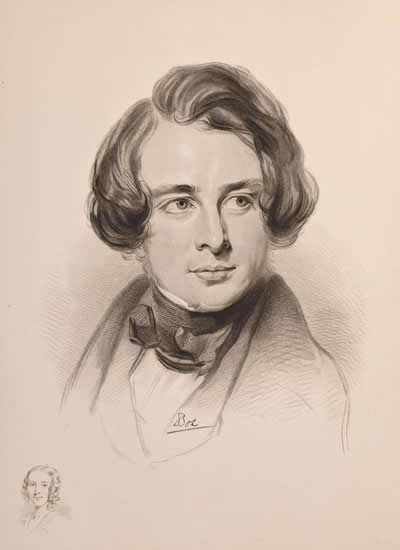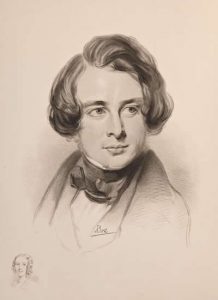 Sketch of Charles Dickens in 1842 with small image
of his sister, Fanny, in the bottom corner.
After the 1842 trip to America, Catherine's sister Georgina came to live with the couple. Catherine was becoming overwhelmed with the duties of being the wife of a famous man and caring for their children. Georgina stepped in to fill the gaps and eventually ran the Dickens household.
Disenchantment
Dickens grew unhappy with Catherine and his marriage. He resented the fact that he had so many children to support. (Somehow he saw this as Catherine's fault.) He did not approve of Catherine's lack of energy. He began to indicate that she was not nor had ever been his intellectual equal.
In 1855 his discontent led him to accept an invitation to meet with his former girlfriend, Maria Beadnell. Maria had married and had become Mrs. Henry Winter. However Mrs. Henry Winter did not live up to Dickens' romantic memories and nothing ever came of the reunion.
Ellen Ternan
In 1857 Dickens met the woman who was to be his companion until his death, Ellen Ternan. Ellen, her mother and her sister were hired to act in a benefit presentation of The Frozen Deep. The event was sponsored by Dickens who also co-starred in the event.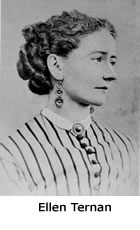 Dickens' life with Catherine seemed even more insufferable after meeting Ellen. Dickens wrote to his friend John Forster, "Poor Catherine and I are not made for each other, and there is no help for it. It is not only that she makes me uneasy and unhappy, but that I make her so too—and much more so."
In 1857 Charles and Catherine took separate bedrooms.
In the spring of 1858 a bracelet that Dickens bought as a present for Ellen was accidentally delivered to the Dickens household. Catherine discovered the bracelet and accused Dickens of having an affair. Dickens denied the accusation and said it was his custom to give small gifts to people that acted in his plays.

Separation
In June of 1858 Catherine and Charles were legally separated. Days later Dickens published a notice in the London Times and Household Words that tried to explain the separation to the public.
In the notice he stated, "Some domestic trouble of mine, of long-standing, on which I will make no further remark than that it claims to be respected, as being of a sacredly private nature, has lately been brought to an arrangement, which involves no anger or ill-will of any kind, and the whole origin, progress, and surrounding circumstances of which have been, throughout, within the knowledge of my children. It is amicably composed, and its details have now to be forgotten by those concerned in it."
While an announcement of this sort seems extreme Dickens was motivated to do so by some of the rumors circulating about the breakup. There was some gossip about an actress and some stories even suggested that Dickens was having an affair with his sister-in-law, Georgina. The second rumor was particularly upsetting because in those times such a relationship would have been viewed as incestuous.
Despite assurances that things were "amicably composed" Dickens and Catherine were never again on pleasant terms. Catherine was given a house. Their oldest son, Charley, moved in with her. Dickens retained custody of the rest of the children. While the children were not forbidden to visit their mother they were not encouraged to do so.
Catherine lived for another twenty years after the separation, passing away in 1879. Deprived of both the role of wife and mother, she never seemed to recover from the breakup of her marriage.