Barnaby Rudge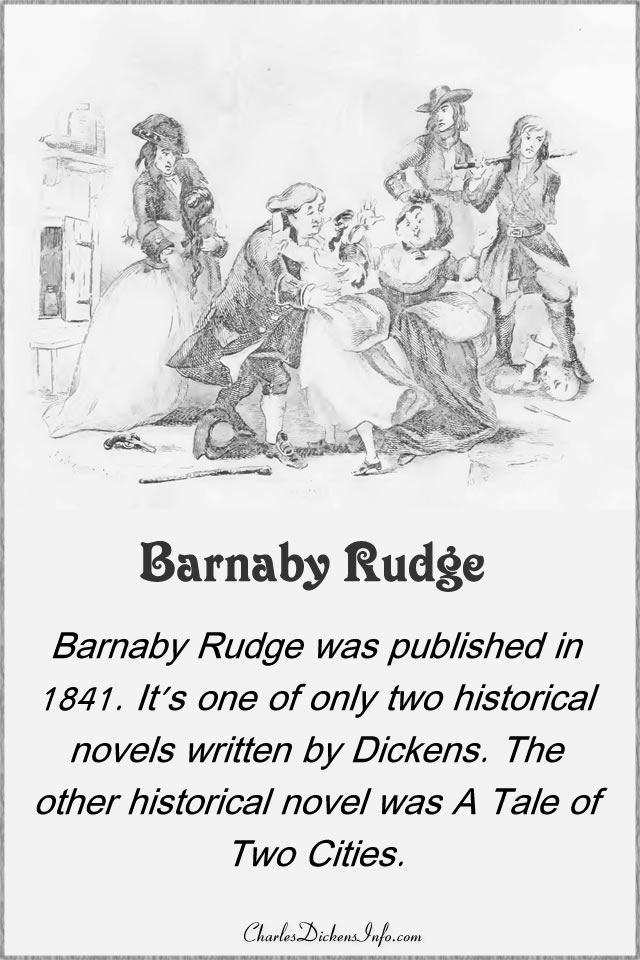 Last Updated on September 23, 2021
Barnaby Rudge was the 5th novel by Charles Dickens. The novel was published in installments from February to November of 1841. It appeared in the magazine Master Humphrey's Clock.
While the novel is commonly called Barnaby Rudge, its full title is Barnaby Rudge: A Tale of the Riots of Eighty. It's a historical novel dealing with Gordon Riots of 1780.
Dickens wrote two historical novels, Barnaby Rudge and A Tale of Two Cities.

Dickens's Life When Writing Barnaby Rudge
Dickens first got the idea for the plot of Barnaby Rudge in 1836 and began writing it in 1839.
1840 marked the publication of The Old Curiosity Shop.
In June and July of 1841 Dickens and his wife, Catherine, toured Scotland. Also that year their son, Walter, was born and Barnaby Rudge was published.
In 1842 Charles and Catherine traveled to America.
Reviews of Barnaby Rudge
Barnaby Rudge was actually the first novel that Dickens planned on writing. In 1836 he was going to call it Gabriel Vardon, the Locksmith of London. Circumstances forced him to put off writing it until later.
Norrie Espstein, the author of The Friendly Dickens, states, "Barnaby Rudge must be the least-read — and least-attractive — novel in the Dickens canon." In fact, when Barnaby Rudge was eventually published it wasn't very well received. John Forrester, a good friend of Dickens, said the novel was structurally flawed.
Grip the Raven
One of the people who read Barnaby Rudge and seemed to like it was Edgar Allan Poe. However, Poe had a few suggestions about Grip, Barnaby's pet raven. He didn't think that the raven should be so playful.
A few years later Poe wrote about a very solemn raven in his famous poem The Raven. Was Grip the inspiration for the poem? We'll never know, but some historians believe so.
Gordon Riots
Barnaby Rudge is a historical novel that deals with the Gordon Riots of 1780.
In 1778 the British parliament passed the Catholic Relief Act. The act replaced anti-Catholic legislation. Although it did not grant freedom of worship, it allowed Catholics to join the army and purchase land if they took an oath of allegiance.
However, this pro-Catholic legislation was not a universally popular change. On June 2nd of 1780, Lord George Gordon led a group of like-minded people to parliament. They wanted the Catholic Relief Act repealed.
Violence broke out and spread. Peace wasn't restored until June 9th. By that time Catholic chapels had been broken into, Newgate Prison was burned and hundreds of people were killed.
Dickens only wrote one other historical novel. A Tale of Two Cities deals with the French revolution.
Theme of Barnaby Rudge
Dickens developed the plot for Barnaby Rudge when he was in his early twenties. He was coming into his own and developing a life apart from his family. It was a life without the constant brushes with poverty and disaster that were his father's hallmarks.
Perhaps this is why the novel is filled with disastrous relationships between fathers and sons.
Both Barnaby and Hugh are abandoned by their fathers.
Maypole's brother, Edward, is not abandoned by their father, Sir John Chester. However, their relationship is not a good one as Sir John firmly discourages Edward from pursuing a relationship with Emma Haredale.
Another troubled relationship between father and son can be found between John Willet and his son Joe. John refuses to see Joe as an adult.
More About Barnaby Rudge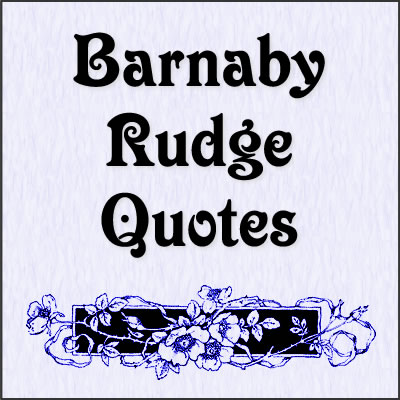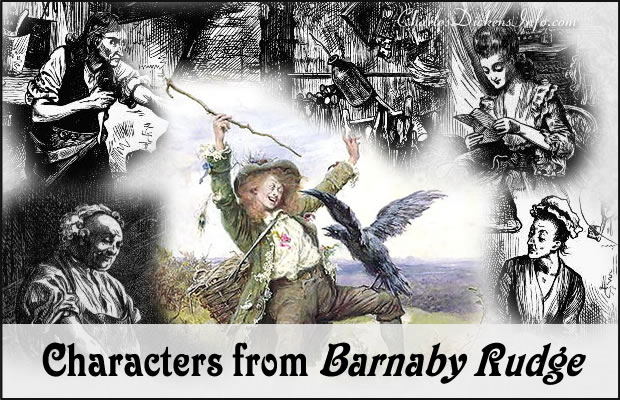 The Barnaby Rudge character list includes Barnaby Rudge, Dolly Varden, John Willet, Joe Willet, Emma Haredale, Edward Chester, Lord George Gordon and more.