Hard Times Crossword Puzzle Answers
Across

1. militant trades-unionist
3. Signor Jupe's daughter
6. Stephen Blackpool loves this woman
7. the youngest daughter of Thomas Gradgrind
8. marries Bounderby
9. became a porter at Bounderby's Bank
10. also known as "the whelp"

Down

1. _____ 's Circus
4. Mrs. _____ – Bounderby's housekeeper
5. Mrs. _____ – Bounderby's long lost relative.

More About Hard Times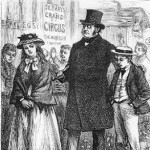 An interesting piece of trivia is that Hard Times is the shortest of all of Dickens's novels.